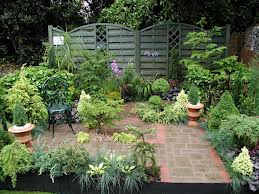 Historic urban homes have plenty of charm, but they're often lacking in the backyard space. If you want to garden, you don't need to pick up and move to the suburbs; there are plenty of possibilities to work with the space you already have. Small backyards offer many elegant and unique gardening opportunities.
Grow Upwards
Instead of getting fixated on long perfect rows, consider things like trellises instead. There are plenty of beautiful climbing plants available that offer both fruit and flower.
Diagonal
When you organize your plants in diagonal lines instead of straight lines, the space will seem bigger than it really is, and the rows between plants will give you more room to walk.
Edible Plants
Family, guests and cooking lovers can make the most of your garden when you plant things like grapes, tomatoes and strawberries. They add color and function to any garden, and most of them are happy in containers.
Fountain
The right kind of fountain can further enlarge an area. A small fountain tucked into a small corner and the variety that flows along the wall both add charm to the yard.
Dark Base
Gray concrete pavers offer a darker backdrop which will further emphasize the brilliant colors of your garden. They're also very durable and their neutral color looks good with anything.
Containers
Just because you can't plants your flowers directly in the ground doesn't mean you can't enjoy them. Container gardening is a great solution to this problem. When winter comes, move smaller containers inside for cold weather, so you can extend the life of your plants.
Bench Space
As a finishing touch, add a bench for visitors to sit and enjoy the greenery. Using a pergola bench is a good idea because it triples as a resting spot, a place for plants to climb and storage. However, don't be afraid to shop around for other available options.
Your small backyard can still be a haven of nature when you use the above techniques.  Each home's landscape presents unique opportunities to design features that accent your property and complement your home.  If you have a small yard and you can't envision how a garden might work, please give us a call – we'd be happy to discuss your options with you.