In Part 1 of this series we covered the basics of some of the things you might want to include when you landscape your front yard.  In this post we'll give you additional tips for making sure that the landscaping throughout your yard is the best that it can possibly be, not just the front yard but your entire property.
The Paths to Your Front Door and Beyond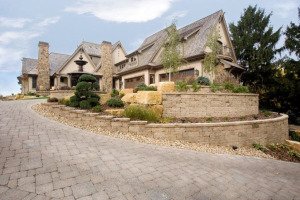 The walkway to your home should invite the guests to the front door. There should be lights down the path, and there should be other elements along side it, such as flower beds, rock gardens, or other items of interest.  For an added boost, check out some of the stones and rocks that can accent a walkway when you'd like it to look a bit different.  We often use large natural Minnesota rocks as landscaping features.
Landscaping Can Highlight the Entrance to Your Home 
You don't want first-time visitors to have to guess where they should go.  The entrance to the home should be something that really stands out.  In addition to choosing an attractive front door, add landscaping and decorative touches to put the visual focus on your entry.  Colorful plantings on containers, decorative steps, lighting, and small shrubs are all items that can be used to dress up your entry area.
Let Your Landscaping Present a Green Look

Your front yard should be welcoming, fresh, green and lush. A healthy lawn is one that is seen from far away. It is one that makes the home look more than pleasant and welcome. It makes the home look clean, inviting and fresh. This is how you're going to want your home to be viewed, right? Get out there and care for the lawn!  And if lawn care isn't your thing, there are many other low-maintenance landscape solutions that can produce lots of green without lots of care.
Landscaping Should Incorporate Your Tastes
During the design process, do not lose sight of your tastes. You're the one that should be the focus of any landscape design – this is your home and you have to actually like the work that is being done on it. This means choosing the items during the design process and standing up in what vision you have for it. When you work with a custom landscape designer, you can add so many beautiful touches that truly make it your own.
For Added Color in Your Yard, Design with Flowers 
Design the yard and surrounding areas with brightly colored flowers. These make any area pop and stand out against the natural tones that come with the earth. When you want to mix and match, make sure to do so with blooms that go together, are good for the climate and that match well with your home.
Now is the time to speak with us here at Architectural Landscape Design.  Winter is a great time to get a plan to move forward this spring with the front yard landscaping that you're in need of. Not only can we help you plan but we can install it when the  weather warms up and  you want to get out there and actually enjoy the outdoors around you.
We are a licensed MN landscape design and installation contractor, and we provide a variety of landscaping solutions for home and business owners in the St. Paul and Minneapolis metro area as well as greater Minnesota communities and those in western Wisconsin.