Fire features for Minnesota yards can extend outdoor enjoyment beyond summer, and some are usable all year 'round.  Some homeowners have large fireplaces added to their outdoor rooms, but not every yard has the room or the layout to accomodate a large fireplace.  That's where the smaller fire elements come in.  While there are variations, the two main options are the fire pit and the chiminea.
A chiminea (also known as a patio fireplace) is something that a lot of people have not heard about and up until six years ago basically did not exist as a landscape product. They are basically free-standing patio fireplaces. Regardless of the space, you probably can choose  either a chiminea or a fire pit, depending on which you like the best. They come in different shapes, sizes and styles to choose from. A chiminea fireplace is enclosed while a fire pit is an open, free-standing fire area. It is contained at the bottom, but open around the top. A patio fireplace is the same as a large stove, and they come in many different shapes, sizes and styles to match your outdoor look.
Fire Features for Your Deck or Patio – Which to Choose?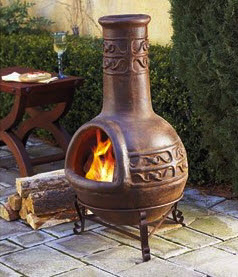 A chiminea has contained fire, unlike a fire pit, which has an open fire. Large fires are a no-go when it comes to using a patio fireplace because the structure is not able to handle nor contain a larger sized fire, but that makes them a great choice for small areas. There is a chimney at the top where the smoke escapes. This means that the smoke goes in one place throughout the air and is not all over the patio.  This can really be a plus if your patio or deck is small.
Fire pits have no chimney and do not contain the fire inside a small space. You're able to stack up the fire as high as you'd like. You are also able to enjoy the warmth of the fire from all sides and not just one. This might be better for a gathering.  If you dream of cool fall evenings, roasting marshmallows with your friends on the patio, a fire pit is a better choice than a chiminea.
Consider the patio or deck that you have in your landscape. This is something that will make your decision on whether or not you want one or the other. If it is breezy and open, then you're going to want something that is going to provide you with the right coverage. Since a chiminea contains the fire, it is a better option for areas exposed to the breeze.  If your fire element is for a large sitting and entertaining area, then you might want enough spots for everyone to use the fire.  A fire pit would be a better choice for this purpose.
When it comes down to choosing between a fire pit or a chiminea, consider the many options that are out there, and don't forget the clean-up that comes along. You may have to take more time with a fire pit compared to a chiminea, but there are pros and cons to each, depending on the specific space that you have in your yard and what you want to use it for.
Can't decide?  Speak with the professionals at Architectural Landscape Design to find out more about a fire element other to your landscape. Fire features in your yard can often be used all year long – no matter what the weather is. How about being able to roast marshmallows around the fire, warming up after snow fights or sledding, or enjoying hot cocoa around the fire pit once that snowman is done.  If you find yourself gazing out at your yard, wishing you could enjoy it more in the winter, now is the time to start planning on adding a fire feature next spring.  At our Minneapolis landscape design company, we'll help you come up with the right choice for you.