All yards go through four distinct seasons and it can show different faces throughout the year. Fall is the one time of the year that yards tend to wind down and prepare for winter, but this doesn't mean that they have to be plain. Fall brings with it beautiful colors of golds, oranges, yellows and reds. During this time the leaves turn to these colors and the gardens are abundant with many fruits and vegetables that are ready to be harvested such as plums, apples, peaches and pears. Prepare for this beautiful season with some of these tips.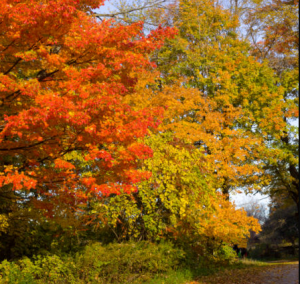 Trees – In both selecting and placing trees, we consider how they may look in the winter and fall seasons. Some varieties will turn stunning shades in autumn that provide beauty to your yard. The trees that light up brightly during this time include: ginko, birch, butternut, ash, dogwood, scarlet oak, sourwood, dogwood, paperback maple, yellowwood and linden. Shrubs also provide color during this time, some of those include: Russian olive, flowering grab and the golden rain tree.
Perennials – These flowers return each year. Some of them, such as aster, turtlehead, helenium, helianthus and chrysanthemum, turn beautiful colors in the fall months. Not sure what will work best with your property?  As a Minneapolis landscaping company, ALD  is able to help you choose the best perennials, trees and bushes for your yard.
Colors – If you have a container garden, asters, chrysanthemums and pansies are beautiful inside these containers and can add color to the area without maintaining a garden bed.
Vegetable garden – Having a vegetable garden can provide more color that you ever thought possible. By just planting cabbages and pumpkins, you're brightening up the otherwise drab landscape.
Landscape decorative touches – Adding varying touches of pumpkins and gourds provides color throughout the entire yard. However, they can also add a beautiful look to the entrance of your home. Corn stalks can have the same effect when placed in front doors and next to mailboxes.
Bulbs for the spring – Fall is a time to prepare for spring, which means you may already be considering having bulbs planted. Some of these bulbs require you to plant them in October such as daffodils, tulips and spring crocuses. Bulbs can double-up with perennials.  For instance, planting tulips in the same holes that the chrysanthemums are planted will give you to get a multi-season bloom in the same spot.
Architectural Landscape Design is a Minneapolis landscaping company that is able to provide you with beautiful colors throughout your entire yard. Don't let your beautiful summer landscape turn drab as the leaves fall.  Let us help you add interest all year long.  You can even ask about a new custom water feature or beautiful furniture to place in your the backyard for even more beauty.