If the term "landscaping" brings to mind a large lot with an expansive lawn and elaborate outdoor structures, you might think it can't do anything for your small lot.  The truth is, the right landscape design can help maximize your outdoor space, no matter how small, and create a big impact.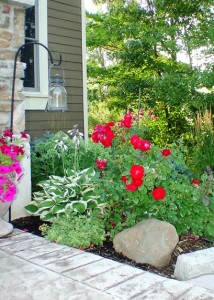 With small yards, a landscape design plan is even more important, because your space is limited.  Whatever landscape elements you add must be proportionate to your space so they don't  dominate the overall appearance of your home and lot.  As this photo shows, colorful blooming flowers nestled among decorative foliage plants, give the right shot of color to an otherwise neutral palette.  The scaled-down hardscaping and strategically placed accents such as this boulder  and suspended light fixture highlight the home and provide a burst of curb appeal, even with just a few feet of lawn between the house and the street.
What's important with landscaping small lots is to make every inch count.  While you might not have the space for a large stand of trees, shrubs and trees on a scale fitting your lot can still provide shade.  Scaled-down outdoor spaces such as patios can still find a home in your yard.  While a full-size pool or fountain is out of the question, smaller water features – even a stone bird bath – can add a refreshing, soothing feel to your yard.
Tiers and layering garden levels can give the impression of a larger space.  No room for a garden?  Perhaps we can help by finding a corner to tuck a raised bed into.    And if you don't have the space to spread a garden out, why not up?  Roses and other climbers can give you a vertical garden when you lack ground space.   And no matter how small your lot is, you've probably got the room for a few stone planters.
Small lots are often in neighborhoods where the homes are close together, and privacy is at a premium.  Stone walls, cedar fences, or vine-covered trellises and arbors can provide the seclusion you crave, even in tight quarters.  And don't forget the finishing touches, like low-voltage lighting.   A small lot can still make a big impact with the right landscape design that coordinates your outdoor spaces with the style of your house.  Bringing landscape visions and dreams to life is what we're here for, no matter how big your lot is!