Are you looking to build upon what you already have in your yard? Perhaps you're thinking of creating an oasis that provides the luxuries of the outdoors.  Maybe you want to add more color and block out sound. These are all fixes that we here at Architectural Landscape Design can do for you. We are a team made from landscape designers and builders. We will bring your getaway to life.
When we have a client working with us, we will create a landscape design for your home in Minneapolis that matches not only your needs and wants, but also the yard that you have. We will use every nook and cranny in the yard to expand and make it look beautiful and large, even if it is not. We can pull the drab and boring and make it exciting and fresh.
Where do we start?  We will first look around your property to get an idea of the style that you should go with. We pay attention to what's in your home as well, because the inside of the home should flow with the outside. Then we'll talk with you about ideas you have.  We can add those elements t to the landscape design that we custom fit to you. Next there's cost consideration.  We also understand that some people need this service and have a limited budget, we can work with you on that.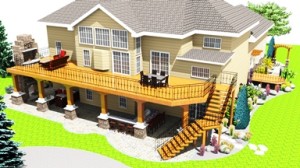 Creating the perfect place to escape takes only a few visits to get the perfect customized plan.  And we'll provide you with a visualization of the design so you can get a good idea of what the finished product will look like.  This picture is an example of what you can expect.
Talk with our professionals here at Architectural Landscape Design to find out what we can do for your yard. Look into our beautiful custom-made natural stone furniture or unique water  features that can add light, sound, and color to the yard.  Check out our Photo Gallery with some previous projects to grab ideas of our skills.  Landscape design doesn't have to be a cookie-cutter process.  At ALD we believe in working with each client to produce a unique landscape plan.  We've done it for many others – let us help you bring your dreams to reality.