As the weather begins to warm up in the Minneapolis area, you may be thinking about moving your cooking outdoors. If you haven't got an outdoor kitchen, maybe this is the year you'll get one put in.
Outdoor kitchens have come a long way from a picnic table and a portable charcoal grill on the patio.  Now, backyard kitchens have expanded to be mini replicas of the kitchen you have inside your home – with everything from fridges to sinks that you can rinse your veggies from the garden off in. With all that's available in outdoor kitchen design, you're able to create your own personal cooking and eating spot outside your home.  Lots of accessories are available to kick your grilling up a few notches, and adding your own personal touches will make it yours come spring time.
The Latest Grill Units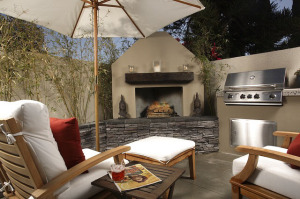 There are numerous grilling tools throughout the outdoor industry to choose from. While gas and charcoal remain favorites, infrared grills are becoming one of the most popular choices to go with. Have control over the cooking that you're doing with an even amount of heat when you choose gas, or you can have the modern charcoal grill in the yard. Whatever it is, there are numerous chrome and stainless units as well as lots of colors available in the grill of your choice.  Some diehard outdoor cooks choose to have more than one type for flexibility in cooking options.
Grilling Baskets Make Outdoor Cooking Easier

These are an inventive idea for those that like to have grilled corn, fish or potatoes but without the hassle that comes with trying to use regular pots and pans on the grill or having those small pieces fall through the grates. Set them in the basket, place them on the grill and that is how they will cook. Flip them for a thorough, all over cook and then serve.  There are also stir-fry baskets for veggies and burger grills that make cooking those patties a breeze.
The Latest in Grilling – the Himalayan Salt Plate 
If you enjoy cooking meat or fish on wood planks, you may like this new item for outdoor grills.  These salt blocks enhance the flavor of the food you're cooking on them, while also evenly cooking them.  This takes place of a pan or even a piece of foil. Salt plates are especially useful for quick searing of thin-sliced meats, fish and seafood such as shrimp and scallops, but they work well for other things, too.  They can also be chilled and used as a platter to keep food cool.
When you're ready to get the outdoor kitchen that you're already dreaming about, speak with us here at Architectural Landscape Design. We are licensed MN landscaping contractor, and we offer outdoor  kitchen design and installation.  Our team can help make that outdoor kitchen vision a reality. Now is the perfect time to get the plans done so you're ready for installation when the weather gets warm.
Check out our Pinterest Outdoor Kitchen Ideas board if you need a little fuel for your imagination – then give us a call and let's talk about making it yours!