Maintaining and increasing value in a home is important.  The housing market is not as big as it once was, which means that homeowners are looking to boost the value of their home in any way possible, whether it's to make it more attractive to buyers or just to build equity. If your landscape includes an outdoor room, you can utilize the space to create a selling point for buyers as well as a relaxing or entertaining spot for you. Make the most out of your garden, both while you live there and when the time comes to sell your home.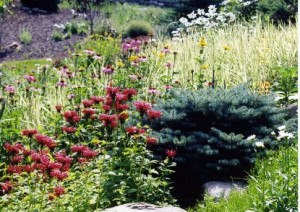 Create an Oasis that is Low on Maintenance – A lot of people think buyers are out for beautiful, in-depth, ornate gardens when in reality this is just too much maintenance for most homeowners. They want something they can enjoy without having to put hours of hard labor into it. You want a garden that draws in more people, appeal to more people and provide the looks without the labor. A simple design that reflects your personal taste can be best.
Keep the Target Market in Mind – Always keep in mind the type of people you're aiming at selling to. You do not want to add a pool and a beautiful landscaped garden with a sitting area if you're too close to a school or other amenities. A lot of buyers that drop by will be families or other young couples that are looking for a nice, family-friendly outdoor space.  If aquatic facilities are nearby, having a pool to maintain in the yard could be a drawback.  However, if you're in a large suburban home with plenty of space, a pool or spa could be just the right selling point.  Have you got a smaller home with a nice country feel?  Then you may be selling to older couples that have more time to garden; custom-designed flower beds might be appropriate. If you have a small space to work with in a city, try to add stylish furniture, potted plants and attractive lighting to make it appear welcoming and larger than it actually is.
Garden Size Does and Will Matter – When people are viewing properties, quantity does over power quality when it comes to gardens. A lot of people have their own ideal size of a garden – they will overlook what is in the garden or the design of it unless they are experienced gardeners. You should give the impression of a good sized, large garden by keeping it simple and tidy. Take out toys, weeds, washing lines and clutter. If the area is overcrowded, it will appear smaller to the eye.
Try not to spend more than what you will make back when your home is sold. Staying simple and realistic is the first thing that should be done. For even more help and to have a beautiful, yet simple garden designed, contact Architectural Landscape Design.  We can custom design a unique garden that complements your Minneapolis home.  With the right touches, you can enjoy your yard now, and then boost your home's appeal when it comes time to sell.