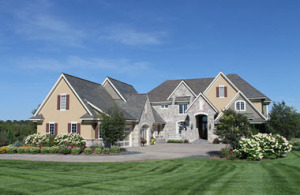 The lawn around your house is an important part of how your home looks, and you want to make it stand out from all the others on the block. Without the right touches, your lawn is not going to give that extra look you're going for. If you want to feel confident with the way that you landscape, smooth over and fix the items throughout the lawn, a professional landscaping company can be a great asset.
It's not just enough to have a beautiful expanse of green grass that's well kept.  A lawn all by itself is uninteresting, but there are things you can add to your landscape that will boost the look of that beautiful grass.  Here are just a few.
Landscaping Tips for Your Lawn
Integrate plants throughout your yard to really make it stand out. You can organize them and even have them mesh with the rest of the lawn by strategically placing them around the outside of your home.  Planting in front of your foundation makes a beautiful transition from house to yard. Choose colors that are bright, stand out and mix well with the rest of the natural colors of the yard.  Even a variety of greens adds to the appeal of your lawn.
Textures and colors play an important role on how your landscape stands out. When you add plants that provide a decent amount of texture, you can accent it with smooth boulders and rough rocks that can be set next to them.  Rock gardens or mulching with small rock can add this look as well.
For a bigger impact, or to attract butterflies and songbirds close to your house, place shrubs, ferns and trees inside pots.  You can put container plantings alongside your front steps, beside the garage doors, on your deck, or anywhere else you'd like to add something growing and colorful where a flower bed or lawn section won't work.
Make a grand entrance where you welcome everyone into your home. Larger sized trees on either side of the driveway can make an impact and allow visitors to feel welcomed when they go to drive down the driveway and up to the home. Even smaller front yards can make an impact with the right border trees around them.  Hedges and full shrubs can create a similar appeal.
Have a nice, comfortable, peaceful spot for you to enjoy your yard.  You can add a sitting area with a small table and chairs, perhaps shaded by a pergola or a vine-covered arbor.  This is your secluded area made just for you. A decorative touch to this area can really play up the space.  Having unique areas like this around your property adds both to the appeal and function of your yard.
If you're stuck for ideas of how to play up your yard, consider speaking with us here at Architectural Landscape Design. We offer free initial design consultations, and we specialize in helping people bring their landscape visions to reality. We are the professional landscaping contractors for the Minneapolis area. Check out our Pinterest boards for further inspiration on making your yard stand out.