If you read Part 1 of this post, you know the winter months are the time to start considering designing of your pool so you can be prepared for when the warmer months sneak up on you.  In Part 1 we covered some basics about backyard pool and landscaping design, and we touched on common pool shapes.  In this post we'd like to discuss some of the more unique pool options.
Natural Pools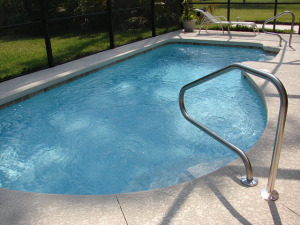 These are becoming more and more common as time moves forward. A part of the pool is used just for swimming, while to the side there is a spot for wildlife, plants and additional filler that works to filter and clean the pool so there is minimal upkeep necessary. There is a wall barrier to ensure that people do not enter into the plant zone.  This is a natural way to keep a pool looking nice, and it doesn't require mechanical filtering or chemicals.
Infinity Pools
These pools have edges that you're not able to see. They mesh well with the surroundings so they seem like they go on forever. This is one of the reasons why so many people are trying to get this type of pool in their yard. It can provide a beautiful landscape addition, while also offering a cool option during the warm summer months.  Infinity edge pools are terrific options for a hilltop with a great view – once you're in the pool it looks like there's nothing but water in front of you.
Geometric Pools 
These pools provide a lot of extras that the homeowner is able to work with. Not only are they broken up into different spaces for different uses, but you can keep them at varying water levels. You can add a smaller hot tub portion to the side of the pool if you want and then keep a larger square for the swimming pool area.  Or you may want a small section for a shallow wading pool for younger children but a deeper spot for the adults. The options are endless and they are easy to throw in the ground.
Exercise Pools 
These pools are smaller in size, but they provide a nice long area so you can do laps. You're also able to open up the muscles while under the water since they become deeper much sooner than other pools out there. This is something that you would put in your backyard to exercise with, but it is also fun to play in.  There are also pools referred to as endless pools and swim spas.  Adjustable currents are generated within these pools, allowing you to get great exercise while basically swimming in place.  These are a great option for those seeking maximum exercise potential in a limited space.
When you're ready to start the planning for your new pool, make sure to speak with us here at Architectural Landscape Design. Not only can we help you design and build the specific pool you'd like, but we can ensure that installation is started when the weather warms up so you can have the pool you want before the summer months ahead.  We are a licensed MN pool and spa installation contractor, serving the entire Minneapolis and St. Paul metro area, as well as outlying Minnesota and western Wisconsin communities.