Winter is a great time for flipping through house and garden catalogs, getting ideas for spring landscaping projects.  Is getting a swimming pool installed on your list?
Having a swimming pool in your yard can be the summertime savior that you've been looking for. It can be exactly what you need, when you need it since it provides the cool, wet haven you're after. When you have a swimming pool, your home is the party destination that everyone is looking for when the heat of the summer becomes too much for them to bear in their own homes.  You don't have to fight the traffic to snag a bit of sand for your towel at the beach, or fight the crowds in line at the water park when you've got a place in your own back yard to take a dip whenever you've got time.
So now that we've convinced you it's a good idea, we'd like to let you know that winter is the perfect time to get the ball rolling by getting started on the plan.  Designing the pool however, might take a little bit of thought.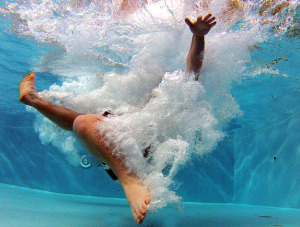 The design of swimming pools have changed over the past decade though, which means that you need to keep up with current trends.  There is much more available than the standard rectangle.  If this isn't your first pool, then you know how much work can go into designing and installing one. But we can help to make sure that the entire process of perfect.
The right landscaping for a backyard pool is able to incorporate the surrounding terrain and natural features around it, providing you with a way to mesh the pool inside the look and and feel of your backyard. The pool is able to sit right in your backyard and become a part of it. It can be custom made to fit the size and shape of your yard so it looks almost if it was naturally put there, with the right design plan in place.  And you have your choice of an in-ground pool, or the less expensive above-ground models, which can be landscaped with a deck and other features to make it look like it's an in-ground one.
We can work with you determine the size of the pool, and where exactly is the best spot for placing it in the backyard. This is essential to make sure that it has the ideal place to go, and that it has enough room for you to graciously accommodate those who want to use it.
Consider some of these  popular shapes for a pool in your yard:
Square or rectangle
Round or oval
Octagonal
Kidney
Freeform (mountain pond, lagoon, etc.)
There are other designs as well, including the Grecian, Figure Eight, Roman, and Riviera.  The design possibilities are almost endless.
Let us help you customize the ideal swimming pool for your backyard. With the right planning this winter, you can be set to go for installation come the spring months. Give us a call here at Architectural Landscape Design to find out how we can get started with the process.  We are a licensed MN landscape design and installation contractor, and we offer free initial in-home design consultations.  Serving the entire Minneapolis metro area, including the Western Wisconsin communities of Hudson and Prescott.