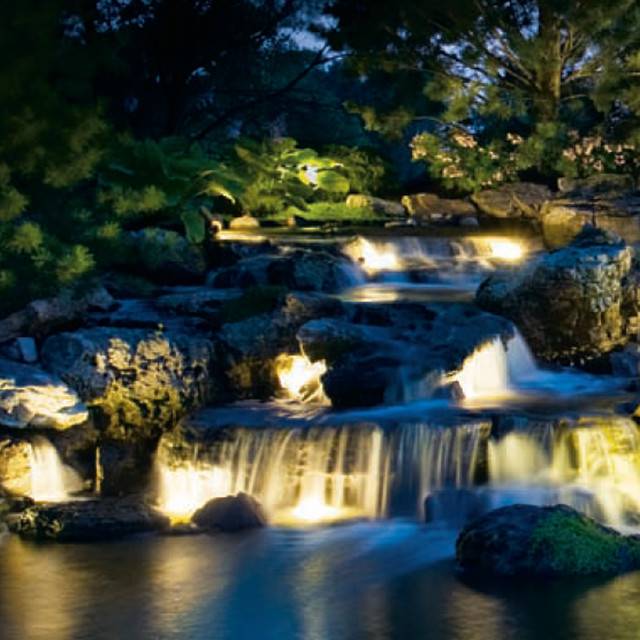 When was the last time you relaxed own back yard and enjoyed the evening view?  The modern world with all its fast pace doesn't always allow us time to simply sit back and take in the lovely images of our own garden. But late in the evening after returning home from work is often a good time to enjoy the view of your yard in the the magnificent glow of the moonlight.
This is why a moon garden is such a wonderful idea for any Minneapolis landscaping contractor to work with. In order to make this an elegant reality in your yard, it is necessary to create a composition of plants that exude all the desired beauty and originality to be found after sunset. Plants with colors that best reflect the moonlight — white flowers and silver foliage — are ideal. They will fill the night garden with charm, mystery and allure.
Moon gardens have actually been around for centuries. Ancient Chinese gardens were often used for meditation. They consisted mainly of white sand and a surface of water that stunningly reflected the moonlight. Initially a product of India, moonlight gardens later became popular in America and Europe.
Proper location for a moon garden is vital for the following reasons:
Openness to moonlight
Not too many shadows
Visibility from inside
Proper exposure to sunlight
Taking a stroll through your garden in the moonlight should give you a good idea of which corners are sufficiently flooded with moonlight.  An overabundance of shadows from large trees and shrubs should, however, be avoided to that sufficient moonlight can illuminate your garden.  Also try to choose a place where your garden will be lit by the light from the house's windows as well as those of the terrace and porch.  Soft low-voltage landscape lighting – strategically placed – will add to the atmosphere as well as light up walking paths for safety.
It should also be kept in mind that most plants need direct sunlight for at least 6 hours each day. A location with little sunlight could only work if you select shade-loving plants such as the plantain lily or lungwort. With these helpful words, your Minnesota landscape design should look simply stunning in the moonlight!
Moon gardens are just one of the many options available for Minneapolis homeowners when you work with our landscape designers.  We specialize in unique and custom garden design, and we are a licensed Minneapolis area outdoor lighting contractor, so we incorporate the right lighting into your landscape design plan as well.  To find out more about moon gardens – or other options for your yard – give us a call today at 952-292-7717.