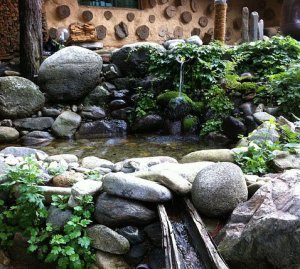 A well-kept pond is a beautiful addition to any home. Not only is it natural, but adding any water feature to the outside of your home will make it stand out and be as beautiful as ever. The pond however, will need to be designed to fit perfectly within your yard so that it stands out,but also meshes well with the surroundings. Here are some tips to keep in mind when you're planning yours.
Outline the edge of your pond using something. This can be bricks, rocks, stones or anything that is going to stand strong against the weather elements while also being able to hold in the water and create a beautiful surrounding of all-natural elements around the water. If you want to take it a step further, consider glass pond ornaments that can also be added around it for additional beauty.
Add a small waterfall to the pond to create a wow factor within it. Not only does this turn the water for you to keep it healthy, but it is beautiful. How many people can say they have a waterfall right in their backyard?
Choose water plants that are bright and beautiful to add throughout the pond. This makes it even more visually appealing and can also attract wildlife such as frogs and butterflies.   Water plants are important if you're going to have fish.
Keep the amount of fish and plants proportionate to the size of the pond; you don't want to overcrowd it.  Remember, the more you living things you have in the pond, the greater the maintenance needs.
Add decorations around the outside of the pond. This can personalize the space for you, while adding the beauty you're in need of. You do not want to make it cluttered but something beautiful here and there can spruce up the way it looks to others.  Landscape statutes, a bird bath, a small stone bench to sit beside the water – all these are elements you may want to consider.   There are even statues at are made specifically to place IN ponds.
Here at Architectural Landscape Design, we are able to help you choose an outdoor water feature, such as a pond or waterfall to provide a little more beauty where it is needed the most. Check out our Pinterest Board on water features for a bit more inspiration. As a licensed MN landscape design and installation contractor, we offer custom water features that include ponds.  Why not call us today for a free initial design consultation to talk about adding a pond to your yard this year?