As a landscaping company located in Prior Lake, we know how important it is for Dakota County homeowners to have the very best looking yards.  When considering landscape design and installation, it's easy to get so focused on the hardscapes, the flower beds or the patio furniture that you forget about the one big thing that surrounds it all – the grass.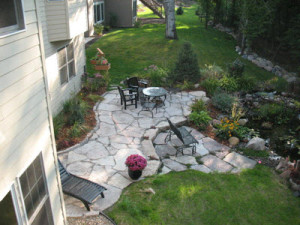 The lawn itself provides the backdrop that showcases all your other landscaping designs.
Following the pointers listed below will help ensure that you get the healthy, vibrant lawn you've always wanted.
First of all, you'll want to gather any sticks or other debris that may have accumulated over the winter. Raking your yard is also a good idea for removing dead grass and keeping the thatch level low.
Try only watering your grass twice a week. This will encourage a healthy, deep root system that is better able to withstand heat and drought.
Don't cut your grass too short. Raising your mower's cutting edge to 2.5 or 3" will result in thicker turf with less space for weeds to take root.
Inspect your sprinkler system to ensure that it is working properly and that there are no broken heads or cracked pipes. A leaking irrigation system can cause overwatering in certain places, leaving your yard vulnerable to disease.
Be smart about watering times. Watering in the early morning is most effective as more water will evaporate in the heat of the day.
If your yard contains trees or shrubs, try giving them a deep watering of 15 minutes once or twice a week and applying a thick layer of mulch to hold in the moisture.
If you're finding it a little difficult to keep up with your yard care, don't despair – contact the lawn care specialists at Architectural Landscape Design! We are a full-service design, installation and maintenance contractor serving homeowners in the greater Minneapolis area, in communities such as Prior Lake, Lakeville, Eden Prairie, and Edina. We offer a number of landscape maintenance packages so you can choose one perfectly suited to your needs. You can rest assured your yard will be in good hands!