Tony Westrude, General Manager, is very passionate about what he and Laura and the team at ALD are able to offer in terms of landscape design and installation.  We recently talked with him specifically about custom landscape design.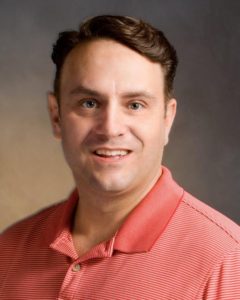 Question:  Tony, why is custom landscape design so important?  There are a lot of stock design plans available on the internet.  Wouldn't it be easier to just offer your clients standard designs?
Tony:  It might be easier, but it wouldn't be better.  And it certainly wouldn't meet the specific needs of the individual clients.  More and more homeowners are beginning to understand the concept of landscaping as an investment rather than an expense.  And great landscaping has to be well thought through.  When it's properly done, it can add value to a home, visual appeal, and functionality for the homeowners.  To get all three requires a custom landscape design first, and then quality installation and ongoing maintenance. 
Question:  Why custom landscaping? Aren't there elements that will work just about anywhere?
Tony:  Each property is different.  You might have two homes that are identical in architectural style, but the terrain surrounding both homes could be vastly different.  The biggest challenge we encounter coming to a home is making the outdoor areas flow with the details of the home itself as well as fitting in with property.  Some homes are surrounded by lots of trees and sloping lawns, while others are built on flat land without trees.  A good landscape design takes into account the existing state of the land surrounding the home as well as its architectural features.  For each design we consider what will complement the exterior colors in the siding and the trim, the roof, and other elements such as brick or stone.  Working with the existing colors is very important.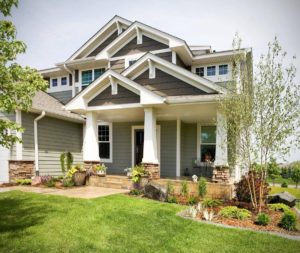 And then there is the issue of personal taste versus the style of the home.  Recently we did a front yard for a couple whose home is a craftsman-style bungalow.  The design of these type of homes dates back to the late 1890s and the early 1900s, but the owners wanted something modern and up-to-date.  With some creativity, I believe we were able to come up with front yard landscaping that's sleek and modern but still works with the home.  By the way, the next phase of this project is installation of a custom waterfall in the back yard.  A waterfall as a part of residential landscaping is definitely a modern landscape feature, but again, it's been designed in such a way as to fit with the home but still reflect the tastes of the owners. 
(Editor's note:  The front yard project Tony refers to is shown in the photo at right.)
Question:  Since most homes are owned by couples, do you ever have clients who aren't on the same page in terms of what their vision is for their landscaping?
Tony:  Situations like this aren't uncommon, but they are challenging.  Thankfully Laura and our other design team members are absolutely fantastic at reading and listening to what the clients' needs are, and then producing a landscape plan that offers creative solutions to those needs.
 Custom landscaping is the answer to challenges that arises when the homeowners are a couple, as most of our clients are.  For example, one party may love the abundant and almost wild look of masses of flowers styled like an English cottage garden while the other wants to play up the sleek, modern appeal of their home.  She may enjoy working in her flower beds on weekends, but in his free time he'd much rather relax in the shade with a beer and a good book instead of having to mow a wide expanse of lawn.     With some creative designing, there's a way to accommodate both.  The ultimate goal is to create outdoor spaces that meet the needs and appeal to the tastes of both parties as well as working with the style of the home. 
Lastly, custom landscape design takes into account the entire outdoor space surrounding the home and then placing each element so that the intended function is enhanced.  For example, if the homeowners really like entertaining large groups, the patio should have room for a lot of chairs and possibly multiple tables that can be placed to make it easy to move around.  If the property doesn't have a large open area, some excavation and even moving of trees would be necessary to create a space big enough for a larger patio.  But since they probably won't be having those big groups all the time, you'd want a smaller seating arrangement not to look out of place or lost on a large patio.  That's where flexible elements like a portable fire pit and arrangements in containers that can be moved are helpful. 
At Architectural Landscape Design, our passion is to create beautiful outdoor living spaces that are not only pleasing to look at but also provide the functionality the owners desire and an overall look that enhances the appearance of their home.  That's why we're such fanatics for custom landscape design, and we believe it's an important part of why our clients continue to give us such excellent reviews. 

ALD is a licensed Minnesota landscape design, installation, and maintenance contractor.  We serve home and business owners in the greater Minneapolis and St. Paul area.