Is there a dog at your house?
As pet owners, we love our dogs and want them to be just as comfortable and happy in the home we share as we are, including the yard. It is possible to create a beautiful landscape around your home that takes into account the needs of its human and canine occupants.
To create a dog-friendly yard we need to think like them. Every breed has a personality that is different. The more you are able to accommodate specific traits, the more cheerful your dog will be. Here are some points to make their dream yard a reality.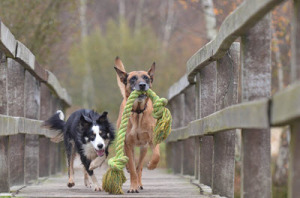 Landscaping Ideas For Homes With Dogs
Use decomposed granite to fill in circular landing pads. Break into more than one space – one for dining and one for seating. Edge this area with plants that are easy to care for yet sturdy to handle dogs that are able to run in the unplanted space between the paved areas.
Create a yard that has a track for running, has border control, plants that are sensible, and mulch that is comfortable on a dog's paw. Do not forget to throw in a marking post with a piece of driftwood if you've got a male dog.
Just like we do, dogs enjoy time in the sun. Give them some lawn space or a deck so they can lounge. However, dogs easily become overheated. You want to provide them with a shady retreat for them to cool off, as well. An arbor is an ideal choice.
Dogs love and need exercise, and paths provide them with a space that is designated for it and will allow them to keep guard of the property. One good way to do that is to create a path alongside the fence. A majority of dogs needs a clearance of e feet.  If you want the path hidden, a screen can be planted to give your dog their "secret garden."
When dogs are outside they need water, and a great place to get this is by creating a pond in your yard that is safe for them to get in and play as well as drink.
Say goodbye to your lawnmower with no-mow fountain grass planted in your yard instead of using turf. This saves on water usages as well. Near your entry plant some river birth and purple smoke tree for some great color. Close to your house, fill it in with dwarf Atlantic white cedar and evergreen manzanita.
These points just scratch the surface of all the wonderful things you can do to your yard to make it dog-friendly for you and your dog to enjoy.  Visit our Pinterest board for more pet-friendly landscaping ideas.
To create your dog-friendly yard today, contact Architectural Landscape Design for assistance with implementing these great ideas and more.