If you've got a Minneapolis yard, you shouldn't have to book a vacation out of state for a getaway.  You want to sit back and relax in an open, care free environment that you feel comfortable in – your own back yard.  By choosing to work with a professional landscaper that is able to bring that to your home, you're able to obtain the oasis that you've always wanted without having to go far to get there. Work is stressful; your home should not be. Here are some tips that expert landscapers use in order to create the perfect environment for you to come home to.
Tranquil Landscape Design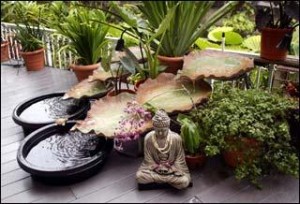 Feng Shui is a popular design concept that is used in a lot of different spaces when you have relaxation in mind. This is how to best place features in order to achieve the optimum design and keep the free flow of energy going.  It works both inside and outside the home.
When successfully designing a Feng Shui landscape, it should include all elements of nature – water, fire, metal, earth and wood – perfectly balanced with one another. Wood and earth are usually already a given, but by adding a metal wind chime, you're adding metal to the mix with a nice wind sound. A small fire pit can be a way to add that little bit of fire you're looking for. A bird bath can provide a tranquil water area for guests.
Landscaping for Privacy and Protection
In order to be relaxed, you have to feel protected. Adding fences and pergolas throughout your landscape can give you this sense of protection. Adding potted plants, bushes or bamboo in a row can also provide the same protection but in a more earthy way. Vines such as grapes or hops are fast to catch on and can keep eyes out of your yard.   A landscape contractor can also build an outdoor room for you to enjoy during the warmer months that protect you while giving you the outdoor space that you need.
Principles Needed for Outdoor Serenity
Use a winding path instead of a straight one for a more calming effect.
Design with the right proportions. If it is cozy, go with something quaint. It should fit the overall look.
Use plants to soften some of the more harsh edges around the yard. Ferns and other plants can provide this soft look.
There are also health benefits to having a beautiful landscape and garden in your yard. If you take advantage of all there is to offer, you can find yourself being more at ease overall. Create the stress-free environment and up the value of your home just by adding a little more to the yard. Speak with Architectural Landscape Design to find out how you can make your dreams become a reality right in your own yard.