Did you know our commercial landscaping crews don't get to take the winter off? We like to keep them busy – and they like to keep working – so when the snows hit, our landscaping installation teams switch over to snow removal in the Prior Lake area and surrounding Minneapolis and St. Paul communities.  (We also offer residential snow removal – see details in our earlier post.)
Commercial snow removal includes these types of properties: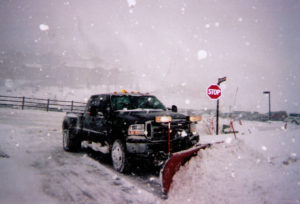 Retail shops and malls
Health care facilities
Multi-family housing (town houses and condos)
Rental properties of all sizes
Banks and other commercial establishments
Our Commercial Snow Removal Services
We offer a complete package of snow removal services, custom tailored for the needs of your site:
Hand shoveling
Snow plowing of parking lots and driveways
Snow blowing of walkways
Sanding and/or de-icing of walkways and steps
End of season clean-up and repairs
Before we set your property up for our services, one of our reps will come out and walk through your property with you, discussing your snow removal needs.  We take pictures before the snow falls so we've got a reference of what your property looks like under the snow.  And we install reflectors along driveway and lot edges so our trucks stay within the confines.  And if there are any messes to clean up afterwards or damage, we'll take care of things like re-sodding.
We assign an account manager to each property, so you have someone you can reach 24 hours a day, seven days a week.  A one-inch snow fall will automatically trigger our crews to come out and service your property.  But if you get snow build-up from lighter snow falls, drifting, or icy areas, let us know and we'll be out to take care of it.
Seasonal and per-job contracts are available, with billing done monthly.
Snow in our area here in Prior Lake and the surrounding communities is inevitable, so now is a great time to get your snow removal service in place before that first snowfall hits.  If you've lived in the Minneapolis and St. Paul area for any length of time, you know that can be as early as October.  Give us a call today to talk with one of our staff about your snow removal needs.
We are a licensed Minnesota landscaping contractor, and we provide commercial and residential snow removal in winter months.