Did you know that MN commercial landscaping is just as important as what's done for homes around the Twin Cities?  You might think that those that come to the building you do your business in do not notice the landscaping around it. This is far from true. Almost each and every customer or client that comes to visit you notices the landscape around your place of business. They want to go somewhere that looks professional and inviting as well as somewhere they feel comfortable going. When your landscape is well put together, you're offering all of these benefits and many more.  And that doesn't just mean in the spring or summer; how your landscaping looks in those dreary Minnesota winter months is just as important.    Now is the perfect time to look around your property and evaluate how it looks at this time of year.  Then you can make plans to add changes before the next snowy season.
Landscaping  That Works in the MN Winter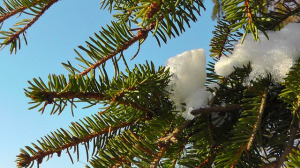 Do not think that just because it is cold that you do not have any options for making your landscape stand out. While we understand that snow and gray days can dampen the mood, it is also something that should be considered when it comes to using the fluffy white stuff to your advantage.
Consider adding green trees such as evergreens that are truly going to stand out against the white and your commercial building. The greens stand tall, they are green and they smell wonderful.
There are bushes with brightly colored red berries on them that can do well in the Minneapolis area, such as hollies. Some shrubs such as red dogwood keep their red bark throughout the winter as well – these are another way to add color.  You're able to place them against your building or among the evergreens and have the red offset the white and green.
And of course containers can even be made use of in the winter, too.  Those pots that display flowers in the warmer months can be used for winter arrangements.
While these ideas might leave Christmas pictures in your head, everyone loves a little Christmas every now and again because it makes them feel like they are home.  Is there a better way to make your clients or customers feel welcome?  And your employees will appreciate the feel, too.
Speak with us here at Architectural Landscape Design to find out which plants, shrubs and flowers we recommend for the winter months and your commercial landscape. No one should neglect the look of the outdoors just because it is cold, snowy and wet outside. Embrace the look and enjoy it while creating natural beauty that welcomes those in around you. We are a licensed MN landscaping design and installation contractor serving the Minneapolis and St. Paul area, as well as other Minnesota and Western Wisconsin communities.   We are currently scheduling free initial design consultations to get ready for spring installation work.