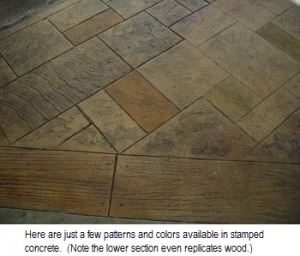 Minnesota weather can be hard on our landscapes, so when spring comes it's often time to replace the old.  Or maybe you're just looking for a change in your patio or walkways.  If it's time for some new hardscaping around your home, there are lots of options:  brick, asphalt, cement, flagstone, and more.  But for a decorative yet economical look, have you considered stamped concrete?  Stamped concrete can be a beautiful addition to the inside or outside of any home. You're able to use the concrete in any color, while also making it look like any medium that you wish. If you want bricks or stones or even landscape timbers, you can choose concrete that mimics the look of these. With its incredible versatility, stamped concrete might be ideal for you to use in your landscape.
Details You Should Know About Stamped Concrete for Hardscaping

The concrete is poured and then worked by professionals who know the process well and can obtain the desired look you're after. They will use a mold to pour the concrete into the driveway, patio, porch or other area where you're using the stamped concrete. Once it is set, before it dries, they will add color to the areas and stamp them using special stamps. These stamps have to be fully pressed down to ensure that the shape of the stamp is left over on the concrete.
Detail work, touch-ups and additional sealing may be required depending on the look that you're going for and the length of time you'd like to keep it in good working condition. The maintenance is minimal though, which is ideal for those that do not want a landscape that costs them a lot of time and money to maintain. Stamped concrete is also more affordable than other types of landscaping materials and can replicate the look of just about any one of them. You're able to get more for your money while still having that beautiful look that you're after.
Whatever your hardscaping needs, we can help you choose a material that is going to work the best for you, your budget and your home. Call us at Architectural Landscape Design for even more information regarding stamped concrete and how you're able to have it laid installed around your property.  It can provide the beautiful look that you're after, without having to worry about spending the high prices but having the luxurious appeal that it brings.
Architectural Landscape Design, Inc. is a licensed MN landscaping design and installation contractor.  We provide landscape services in the Minneapolis and St. Paul metro area, and also around Minnesota and western Wisconsin.  Call today to schedule a free initial design consultation.