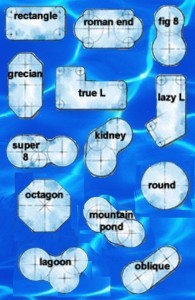 If you've decided it's time to add a pool to your Minneapolis back yard, one of your next choices will be the shape.  Choosing the right shape for your pool can be a very important decision when it comes to the design as well as the placement of the pool. Having a good idea of the shape you want will help with other decisions.  The pool that you put in your yard should supplement the look and feel of your yard and your home so when you choose the right shape, you can compliment the home that you have. There are many benefits to adding a pool, but you want to choose the right shape for the yard as well as your intended use. Don't forget you'll have to maintain it, as well.
Common Pool Shapes
Rectangular:  This is the most common shape of pool that you will see. The straight edges and long design can give you room to do laps while also making sure that it looks more formal and professional in the yard.
Grecian: This is a classic look. It starts with a rectangular shape but it has cut off corners. This is able to compliment a classic looking home and; yard however, it tends to be smaller than others since you're cutting off the corners of the rectangle.
Roman: This is another classic design that can look great in your yard. It is a rectangle then has semi-circles around the sides or ends. The corners of the pool are also rounded to match the semi-circles and you can add a bit of visual interest by adding this type of pool to the yard.
Freeform: A freeform pool can be any shape you choose, depending on the look you're going for.  Freeform pools work well when you want to fit your pool in around existing elements in your landscaping.  Various freeform shapes include pools referred to as mountain ponds and lagoon pools.
Kidney Shaped:  This is exactly what it sounds like. It is a pool that is shaped like an oval, but has an indent in the side of it. It is able to fit in almost any size yard and can provide a natural placement. There is also a shallow and deep end that can be put in with this shape of a pool. Add greenery or a spa in the indented area of the pool.
Figure 8: This is a great pool to have for a family since it can house many different activities. You're able to choose the sizes of each half of the pool. You can choose for one end to be deep, while the other is shallow. Place shrubbery in the natural spots along the figure-eight shaped pool.
L-Shaped:  This is a rectangular pool that has a natural extension to it. This is a good pool to exercise or train and also provide a smaller area for beginner swimmers. The Lazy L Shaped pool is a hybrid of this type of pool and the entrance is where the side arm comes off.
In addition to these basic forms, there are other pool shapes available as well.  Speak with us here at Architectural Landscape Design to find out more regarding the pool sizes and shapes that we are able to provide your yard with. We can work with you on the best design for the yard and provide you with everything that you need and more.