All the rain hitting the Minneapolis area this week has got us in the mood to talk about waterscaping.
What is waterscaping?  It's the use of some outdoor element that incorporates water – a fountain, a waterfall, a koi pond or other water-based creation that can be added to a yard.
If you enjoy the sound of slow trickling water and enjoy beautiful plants as well, then a water garden  might be just what you're looking for in your yard. These water features provide a pop of color and a hint of warmth and soothing comfort when you're sitting beside them.
A water garden should be carefully composed using plants that are appropriate both for our climate as well as being able to thrive in water.  Consider some of these plants for your water garden.
Types of Plants for Water Gardens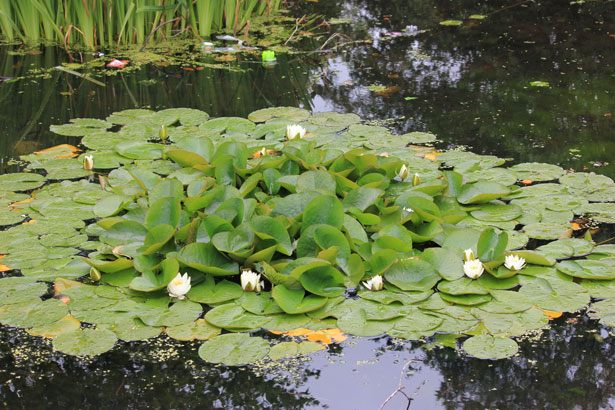 A variety of plants can be used in a water garden.  Some provide color and visual interest, while others can support the health of your pond so fish can thrive.  Water garden plants are in three basic categories.
Submerged Plants – These plants live and grow under the water but can sometimes be seen blooming above the water. They are also known as oxygenating plants, since they create oxygen for the fish to live off of inside the water feature. Water lilies and hornwort are both types of these plants.
Marginal Plants – These are plants that bloom on the outside of the water but have their roots below the waters surface. The top of the pot they are planted in usually peeks out just above the water level. Some of the plants that are marginal include bulrush and irises.
Floating Plants – These are beautiful plants, and one of the best known in water features. They can reduce the algae in the pond and provide shade for any wildlife that uses it. They are free floating and grow right on the surface of the water. Some plants include water clovers and water lettuce.
There are numerous plants that can be used in water features, and depending on what you'd like to incorporate in yours, you can ask us here at Architectural Landscaping Design for more ideas. As MN landscape designers and installation contractors, we've put together many man-made yet natural looking water features for yards in the past, and we are happy to design and install the perfect water feature for yours, including a koi pond or water garden.
Waterscaping includes many other elements that can add the soothing sight and sound of water to your landscape.  Use these other tips for creating a water feature for your yard.