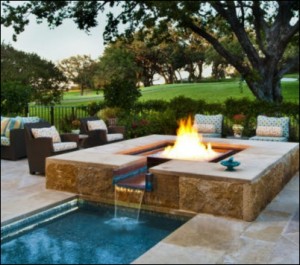 With the first signs of spring finally making an appearance in Minnesota, your mind may well be on how to give your yard the distinctive look it deserves. If you've ever considered a water feature, this may be the time to add that touch of elegance you've been craving for your home's outdoor areas.
With this post we'll give you a few ideas to get you started. Keep in mind that some of these lovely affectations can be incorporated into a large or small house or even an apartment. Without further delay, here are some of the water features that can forever change your garden into something you've only dreamed about before.
Multiple depth pond
Japanese garden
Mini-pond
A multiple depth pond is a pond that, as its name implies, has several levels planned into its design. The best use for these ponds is for water plants, although some are designed just to provide spots for water to flow from one level to another via a circulating device.  Care should be taken when considering which plants to use in each varying depth. For example, shallow water is ideal for plants that can take the heat better. And slightly deeper depths would work best for plants filled with hardier vegetation. Meanwhile azaleas and daffodils are wonderful ideas for planting beside the pond.
With some imagination you can easily take an already existing pond on your property and generate the feel of a Japanese garden. Such ideas include bamboo shoots located behind a row of rocks and a pagoda fountain. Horsetail, lower-paced junipers and Japanese maple are wonderful ways to accent this water feature.
For those of you concerned that your properties may not be large enough for such an elegant idea, consider the mini-pond. You'd be surprised how much class a wooden barrel can add to your landscape.
If you're thinking that a water fountain may be just the thing to add that spice of charm to your garden, here's a previous post that details the benefits of such an idea.  Water fountains can be large or small; wall-mounted or placed in the center of another feature such as a rock garden.
These are just some of the ways you can add a water feature to your yard.  There are many other options.  Whatever your particular Minnesota landscape design dreams may be, we will always be an endless source of inspiration and helpful info. Check out our blog for regular tips, review our photo gallery, or visit our Pinterest boards for some great ideas.  Whether you're seeking a MN landscape installation contractor or simply need hints on maintaining your landscape, we can help.  We are currently offering a free consultation – call us today to schedule – 952.292.7717.