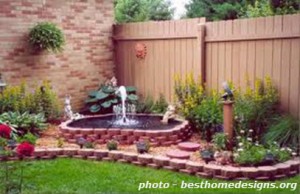 When it comes to a yard that brings enjoyment, nothing is more beautiful then hearing the sounds of soothing water in the calm atmosphere around you. When life gets hectic, usually you end up in this very area to unwind for the day. A  fountain is a great way to add a water element to your landscape plan.  At one time water fountains were symbolic of affluence, but now it is more about bringing balance and ambiance to a garden or area of your yard.
Consider the Water Fountain and Its Surroundings

When it comes to the size and type of fountain that you use, you have to consider the space it is going in. Is it a large open area or a small corner of your yard?  You want to make sure that you are not over-doing it with an awe-inspiring spectacle like you might see in Hollywood mansions.  Smaller ones can do just the same if placed right and set among other landscaping features that set it off.   There are also scaled-down versions of those large fountains; they can provide just the same beauty, but fit nicely within the area that you have to work with.
Next you have to think about water supply.  Fountains can either be installed with water flowing from an underground line, or they can be self-contained, recirculating units that don't need any plumbing.  Which you choose may depend on your budget as well as how far the fountain's desired location is from the existing water supply.  For instance, if you're thinking of putting in a fountain beside your home where you've already got an outdoor spigot, extending the water line to accommodate a fountain might be relatively easy and inexpensive.  But if you're putting in a fountain at the back of your yard, far from current water lines, a self-contained unit may be a better option.
Lastly, you need to consider the style and how it will work with your home's design and your current overall landscaping plan.  If you've got a traditional cottage-style home, a high-tech steel and cement model might be out of place.  Fountains come in a variety of materials – cement, metal, stone, ceramic, or a combination of materials.
If you've got a fountain idea that you love, chances are that you will be able to find it in the right size to fit with your yard setting. There are also many benefits that come with owning a fountain for your yard.  Flowing water is great for helping reduce pollution and refreshing the air around it.  And the sound of bubbling or flowing water can enhance a feeling of serenity – what better way to de-stress at the end of the day than relaxing beside your own water fountain!  A fountain is able to be the center that is needed after a long day at work or just running around.
Whatever your reasons are for choosing a fountain, we can help you choose and install the right one for you and your yard.   If it's time to add the sound of water to your MN yard, speak with us here at Architectural Landscape Design, We are a licensed Minneapolis area landscape contractor, and we design and install water features such as ponds, spas, pools, and fountains.  Need some inspiration?   Check out our Water Features board on Pinterest for ideas.