Decorating your home is all about the details – and decorating shouldn't be confined to the inside of your home.  The outside should look just as nice. These little details you can add say a lot about who you are and what you like since you want to have your own personal touch. There are some small things that you can do around the yard to open it up and create a lively space that looks beautiful yet reflects you.
Your Mailbox
This should say a lot about the home that the mail is going, too. You might plant flowers around the post, or just get a super cool, custom-made mailbox to show off your style. Paint the mailbox a cute color or match it to the home. There are many ways to say welcome right in the front yard.
Your Address Numbers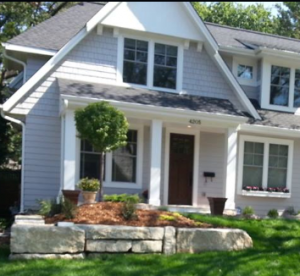 You can find many different styles and colors of numbers to put on the front of your home. Choose ones that make your home stand out more. Maybe go with larger print to show off the number of your home or choose a finish that works with the color of the home.  And consider placing those numbers in a visible yet unusual spot; yours don't have to be in the same place as the ones on all the neighboring homes.
Fountains for the Neighborhood Dogs
Are there dog owners who walk with their pets in your area?  Give the neighborhood dogs something to talk about when you install a water fountain right out front for them to drink from while on their walks. They (and their owners) will thank you later and this is a pretty cool, unique feature that you will be sure to love.
Water Features
Not only can you say something nice about your home when you add a water feature, but you're going to actually love being in your yard at the same time. With this in mind, you want to choose a water feature that not only matches you but also your home. Think of adding a custom water feature that is unique to only your home.  From recirculating and cascading fountains to koi ponds and small reflecting pools, you've got plenty to choose from.
Your Front Door
This says a lot about the home within. When you put a statement out there with your front door, it is able to say anything. You can choose to go with different colors – bright or subtle or even different styles depending on the home that you have. Make the door unique and part of your home by using your imagination.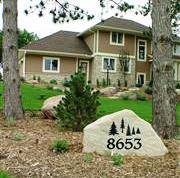 These are just a few touches you can add.  There are many other options – things such as flower boxes for your front windows, statuary, strategically-placed boulders, decorative planters, etc.  If you want some more insight and perhaps a whole design for your front yard that is made uniquely for you and your home, then you should contact Architectural Landscape Design in the Minneapolis area.  We we can provide a whole layout for your yard, create custom water features and help you choose the right landscaping to accent the home that you own.  We are a MN landscaping contractor serving Minneapolis and the entire greater Twin Cities area.