Considering what to put in your yard this year that is really going to make it stand out? Have you ever considered a tabletop fountain, or a fountain at all, for that matter? With the right centerpiece for your yard, you can really make a statement and have it stand out.  A water feature is a great way to do that. With the fountain providing the look and the sound, you can sit out back and enjoy the serenity of being at your home.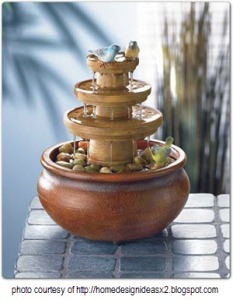 Tabletop Fountains Are Perfect for Creating Mini-Rooms Outdoors

In your yard, you can section of specific areas to create small "rooms." These rooms can each have a small fountain welcoming the user into them. This provides a peaceful place for every need that you have for your backyard from lounging to gardening, and even space for kids to play or for you to have a small backyard fire.  And one great advantage of tabletop fountains as opposed to fixed units is that these water features are portable – you can easily move them around if you're changing things up in your yard.
Many Fountain Styles  Are Available

The choice of fountain that you go with should reflect the space that it is in as well as your own personal taste. You may want playful puppies if you're entertaining kids, or a turtle if you're sitting on your porch enjoying a cup of coffee.  If you're a bird watcher, you might choose something like the fountain shown here.  But if your space is for entertaining guests, you may want something a little more elegant.  There are endless options to go with when it comes to placing a fountain anywhere throughout your yard.
The Cost of Outdoor Tabletop Fountains

Many people are debating whether or not the cost of buying a tabletop fountain is worth it. However, you will find that the benefits outweigh the costs that come with them. They are beautiful and appealing, and they can be very affordable depending on the type of fountain you choose to go with.  If you've never had a water feature in your yard but you've been thinking about whether it would work for you, these are relatively inexpensive ways to try the idea out, and they can easily be moved if you decide you'd rather have it somewhere else.
Whatever the reason, you can have a beautiful fountain in your yard.   You can purchase a tabletop model, but if you'd like something more permanent, give us a call. We can design and install a custom water feature for you such as a waterfall, fountain, reflecting pond, or more.   We are a licensed MN landscape design and installation contractor serving the entire Minneapolis and St. Paul metro area.   And we also offer landscaping for western Wisconsin as well.