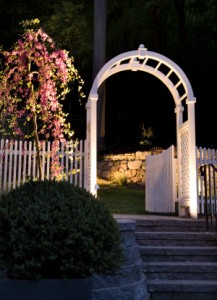 Does your front yard fade into darkness as the sun goes down?  Many Minneapolis area homeowners have a lack of lighting in the front yard, with the only source of illumination often being a light beside the front door.
Landscape lighting is usually more commonly found in backyard because this is where everyone gathers. You would think that lighting the front yard is the same. While it is the same type of technology, it has a different concept or goal that it needs to achieve. This is a way you can direct visitors to your door, add a more beautiful touch to your home's street-facing profile, and highlight specific, beautiful areas of the home.  While these are all benefits of front yard lighting, backyard lighting often has different purposes  Here are some areas to consider lighting up at night, both for safety and for appearance.
Areas to Illuminate in Your Front Yard at Night
Lighting for the Entryway – This can increase security at night and also allows people to know where your front door is. Overhead lights and lighting on either side of the door can do just fine.
Lighting for the Steps – This can provide safety for all stepping up and down your walkway. Place them underneath or on the every other side of each step so everyone can see where they are going.
Lighting on the Columns and Walls – Add more security to the walls around the property or the columns located around the home. This lights up the landscape and also lets you see out into the yard at night.
Uplighting – Place uplights under the trees, shrubs and other strong points throughout your yard. This can provide security but also add a little something extra to the landscape.
Lighting in Your Garden – Make sure to spruce up the garden a bit with some lighting. You're able to add small lights throughout the garden to show off your hard work at night.
Lighting up Numbers on the House – Have someone coming over, but they are not sure where you live? Illuminating the numbers on the house will help them easily find it in no time.
Lighting on the Garage – If you're taking the trash out at night or just trying to park your car, making sure that you can see what you're doing is always a good thing. It can also provide additional security for that end of the home.
It is the perfect time to start thinking about lighting with the colder months upon us. In the winter our nights come earlier, so it's important for many reasons to make sure your home's front yard area is well lighted.  Get your home lit up for the beautiful snow that will be falling in the nice, cool weather. Speak with us at Architectural Landscape Design to find out how we can implement the most beautiful lighting scheme for the front yard of your home.  We're an expereienced Minneapolis area lighting contractor, and we can help you with all your outdoor lighting needs.