The ancient Eastern art of feng shui states that our world is naturally consists of five different elements:
earth
fire
water
metal
wood
Each of these elements give off a different energy and mood, and when these elements are put in harmonious balance in a yard, the homeowner's personality is benefited.
Wind is not thought of as one of the crucial elements, even though feng shui's meaning is wind and water. However, wind still bears power that is significant. A small guide on how to combine water, fire, wind, and earth in a decoration for a garden (or even an entire yard) follows.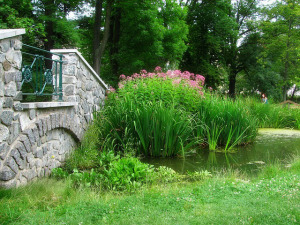 Using Feng Shui For a Balanced Landscape Design
Below are the basic characteristics of the elements, what they produce, and things you can add to your yard that will enhance each element.
Earth Element:  The earth element is recognized by physical strength creating energy of balance, stability, firm grounding, and support. Lacking it can cause disorganization, chaos, and confusion, but having too much makes people overly serious, inert, and bored.
To boost the element of earth, add earth colors such as sand, brown, and green, as well as rectangular and square shapes, and surfaces that are flat or low. To re-establish nurturing earth energy, accent your yard with clay décor, pottery pieces, or a few rocks.
Fire Element:  Fire element is an enthusiasm protector and can increase skills in leadership and boldness. This element improves inspiration, freedom of action, and expressiveness. Too much fire element will result in aggression, anger, impulsive behavior, agitation, but not having enough leads to blurred vision, emotional coldness, low self-esteem, and reclusive behavior.
Increase the fire element with adding incandescent bulbs, candles, and sunlight, as well as colors in the pink and red family.  Animal prints also bring in the fire element. Installing a fire pit of cast iron or stone will supplement this element.
Water Element:  Deep emotions and spirituality are governed when water energy is balanced. It gives a harbor for deep thought, wisdom, and inspiration. Too much gives emotional drowning. Too little gives the feeling of loneliness, unsympathetic, and isolated.
The water element is produced with flowing and asymmetric shapes, black colors or dark tones.  Having a water feature such as a reflective or fish pond, a waterfall, or a fountain increases this element.
Wind Element: Vitality, freedom, and independence are governed by wind. Wind chimes in the garden take negative energy away and bring wealth and prosperity. Wind chimes that are metal need to be placed oriented toward the west, northwest, or north.  If your chimes are bamboo or wood, place them in the east, southeast, or south portion of your yard.  Porcelain and clay chimes should be centered.
Combining Feng Shui Elements

After you know characteristics of the elements, you can start to balance them. Keep in mind that if you're trying to decrease or increase an element's influence, no changes will make energy that is negative disappear. Simply balance the flow of negative and positive energy instead.
For help with a balanced landscape design, contact us.  We are a licensed MN lansdcape design and installation contractor serving the entire Minneapolis metro area, and we can help you create outdoor spaces that bring out the best.