There is nothing like a water feature if you're looking for something unique for your landscape. 
When it comes to your backyard, a pond can be a beautiful addition. Have a connection with nature, and enjoy every little bit of it with a place you can go to relax, unwind and enjoy the wildlife around you.
Okay, before you start digging a hole in your yard, stop and think about how do you want it to look and feel? Here are some considerations to take in mind when you're considering a pond in your backyard.
Use Some of These Elements in Your Backyard Pond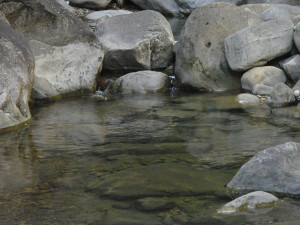 These elements, when brought to a backyard pond, can bring a nice touch to the overall appearance of the pond itself.
Maintaining water quality is one of the most important aspects of having a backyard pond. Always make sure to check the pH levels from time to time. When the weather becomes colder, you may have to drain the water from the pond or risk having it freeze and crack components around it.
You'll want to add interesting pieces to the pond to make it really stand out in the backyard. Add things like rocks along the edge, soft landscape lighting, and even outdoor statues.
Combine your pond with other water features such as a mini-waterfall, fountain, or bubbling boulder. 
Consider koi or other pond fish.  Turtles and frogs are also great additions to add to a pond to really make it stand out.Having something in your pond that's alive really adds to it.  That includes water plants like floating water lilies. 
Adding trees, shrubs and flowers that welcome birds and butterflies can also be beautiful.
Besides these elements, here are some additional tips:
A pond should generally be installed in an area that is nice and sunny. This will ensure that the plants and wildlife get enough sun throughout the day.
The depth and size of the pond should be considered based on what you're placing inside the pond.
What shape do you want?  Circles and ovals are two of the most common pond shapes, though you can find other options available.
Also, consider some of these options for choosing the pond for your MN yard.
If you're thinking of adding a water feature such as a pond to your yard this year, why not first talk to a landscape professional that is experienced in waterscaping? Our MN landscaping professionals can provide you with the design and implementation of your dream backyard oasis, complete with a beautiful pond addition. Call us today here at Architectural Landscape Design in MN so we can make your pond dreams become a reality.