Does your backyard have sufficient shade?
Shade, you say?  Why are we asking about shade now that it's winter?
Because this is the perfect time to think about changes to your landscaping and outdoor accessories so that when spring comes you'll be ready to enjoy your outdoor living area.  Plus, in January many stores are clearing out their outdoor furniture to make room for new items, and many times things like yard canopies (also referred to as yard sails) will be available at great prices.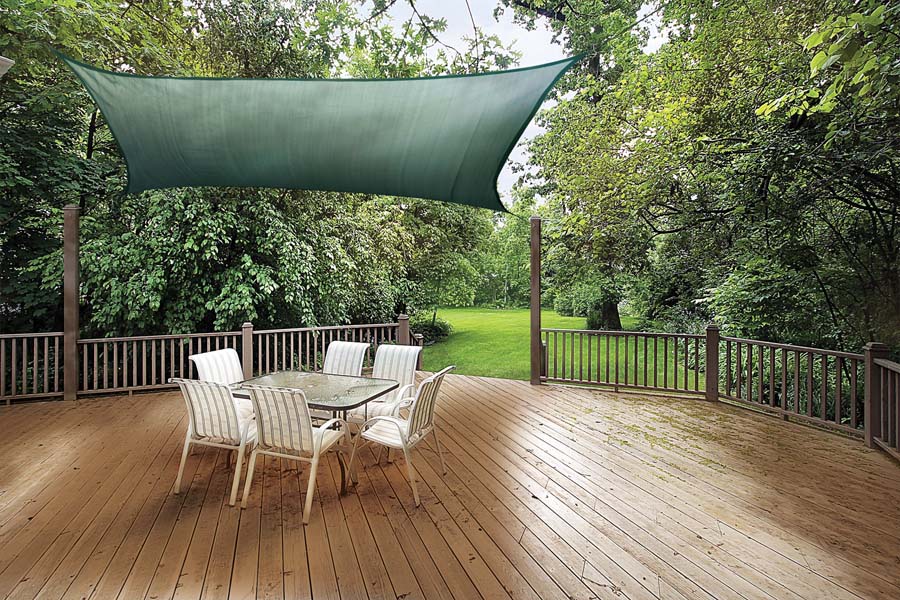 Backyard canopies have many purposes. They are pleasing to the eye, offer shelter in the rain, and provide a shaded area on sunny days. However, when it comes to choosing one for your backyard, some thought has to be put into selecting the perfect one for your space.
With a Yard Sail, Size Matters
When you're choosing the perfect backyard canopy that suits your outdoor living space, consider how big you would like it. If you have a smaller yard, try not to pick one that will overwhelm the space you are working with. You will want it to be big enough to provide sufficient shade, but not so big that it will cover your entire backyard. Even if your backyard is on the larger side, you should avoid going too big unless you have a lot of space to work with. A backyard canopy that is too large can end up in your outdoor space looking cramped and cluttered.
Yard Canopy Appearance and Material
Appearance is a big deal when you are in the market for a backyard canopy. You will want it to look like it belongs with your home, in a style that you enjoy. When it comes to outdoor canopies, there are many different materials that you can choose from. The materials that are chosen will affect the durability of the canopy, and the overall look as well. Some great options to consider for the canopy are materials that are resistant to sunlight and mold/mildew. Go with colors that flow seamlessly with any other outdoor décor you may have, too.  And unless you're willing to spend the money to replace it when you want to redecorate outdoors, opt for a plain color or simple pattern that you can easily accessorize.  Those lovely floral shades might provide eye candy at first, but you may tire of it, and will it go with new furniture when it's time to change those cushions?
Structure and Portability
What the backyard canopy structure is made of is also equally important. There are many choices -some canopies are suspended with hooks or ties, while others come with freestanding structural supports in wood, resin or metals that you can choose from. These will also affect the durability of your canopy. Maybe you would like a canopy that can be moved when the time comes, or stored in harsher weather elements. These are all things to consider when it comes to choosing the perfect canopy for your outdoor living spaces.
A major benefit an outdoor canopy provides is shading an area that otherwise is in the sun.  That means your outdoor space might get used more. For more ideas on providing shade for your yard, visit our Backyard Shade Ideas board on Pinterest.
Outdoor living is at its best when your outdoor rooms have everything you need.  If your yard could use a little help, why not call the experts at Architectural Landscape Design today!  We specialize in design and installation of outdoor living spaces.  We are a licensed MN landscaping contractor, and we serve the entire Minneapolis metro area and surrounding Minnesota communities, including western Wisconsin.