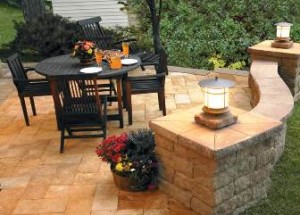 With the right Minneapolis patio design, you can feel more at ease with your surroundings. However, you may not know how to go about creating the perfect outdoor space. With a little information from us at Architectural Landscape Design, you will be on your way in no time.
The summer time is usually when you would like to give the patio area a different look, but fall is a great time to plan for next year's outdoor season. The styles that you have to choose from are plentiful and you will want to keep some key tips in mind during the planning process.
Always think lush when adding plants to a more tranquil place. Having an enveloped feeling provides a way to relax and bask in the lush gardens all around you. Place shrubs, trees, and even potted plants on pedestals.
Use decorative container flowers wherever you see fit on the patio. You can use flowers, herbs, shrubs, and other foliage.
Choose floral scents that are strong and provide a mix within the backyard such as lilies, jasmine and lavender.
Add more than just furniture in the back. You can add screens, fences, and bamboo to provide a more urban appeal.
Use rustic pots throughout the back, even if they do not match. This miss-matched look can go great with the feel of the patio.
Choose from a wide variety of metal containers for your plants and flowers. Pick ones that don't rust and can provide a nice, simple look around the patio.
Always ensure that the potted plants have adequate drainage. With this in mind, you should then move forward with mix and matching the plants and providing different pots for each of them to grow and flourish.
Plant flowers that will attract wildlife to them such as hummingbirds and butterflies. This can provide a colorful show to those guests sitting on the patio.
Place veggies out to grow on the patio. Not only does it provide extra to the space, but it makes it easier to harvest them when it comes time to eat.
When it comes to your Minneapolis patio design, choosing a MN landscaping company should be easy. Here at Architectural Landscape Design we strive to provide only the best in patio designs that fit your home and your lifestyle. We are one of the highest ranked landscape designers for Minneapolis homes and businesses.