Here in Minnesota we love getting outdoors when the weather is nice.  When you own your own home you may have thought about putting together an outdoor living area that you can relax in or maybe even use it as a functional space that is great for entertaining. Choosing the right products and accessories for your outdoor living areas is just as important as choosing the right items for the rooms inside your home. There are many different ways to spruce up your outdoor areas that add functionality while still giving you the comfort you crave.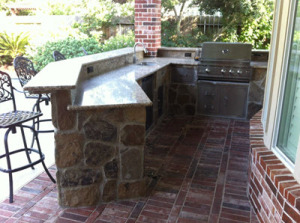 Add These Elements to Your Outdoor Room
Fire Pits:  Adding a fire element like a fire pit is an amazing way to give your outdoor space a cozy feel. There are so many different options when it comes to fire pits – some of which you can have built into the ground, while others are set in a table instead of the traditional free-standing ones you can find in the home improvement stores around you.  Fire pits can burn charcoal, wood, and even gas.
You can accessorize your fire pits with glass wind guards, different assortments of colored glass fire gems, colored burners, and even burner covers and vinyl covers. There are endless possibilities when it comes to enhancing an old fire pit you have or creating a new custom one for your outdoor living space.
Pergolas: A pergola is a great way to define an outdoor room in your backyard. A pergola can be attached to your house or installed as a stand-alone fixture, and they create a space that is truly like a room. You can accessorize your pergola with lattice, a canopy or other shade, or a custom privacy wall. You can make your outdoor area a magical place by stringing some lights or lanterns across the top of your pergola, or make it a much cozier place to read and relax with some plants and candles.  They're great for hanging planter baskets from.
Outdoor Kitchen Islands: Installing a kitchen island is a great way to add functionality to your outdoor living area that is great for entertaining. You can have an outdoor kitchen island built around your grill or storage system, and you can even have a fire pit or a matching gas fire burner installed on the island itself. You can choose the type of materials you want for this island. The possibilities are endless when it comes to designing and accessorizing your outdoor kitchen island.
Not sure where to begin when it comes to sprucing up your backyard living area? Give Architectural Landscape Design a call! We can help you choose what works best for your outdoor living spaces.  We are currently offering free initial in-home design consultations.  Call us to schedule a time to talk about designing and installing the outdoor room of your dreams this summer.
We are a licensed MN landscape design and installation contractor, serving homes and businesses in the greater Minneapolis metro area as well as western Wisconsin.