In most areas of life, there is one 'must have' element.  For instance, the little black dress is an essential piece of a woman's wardrobe.  Air conditioning is a 'must have' for Minnesota summers.  Even outdoor living has 'must have' elements.
If you're going to invest in only one new landscaping addition this year, make it a pergola – the 'must have' for outdoor living. 
A pergola can be the one piece that brings everything together when your outdoor room is used. When planning an outdoor area in your MN backyard, you have to consider how you're going to separate it from the rest of the yard. A pergola can not only provide the needed shade but also define your outdoor room and distinguish it from rest of the yard. They can be an ideal addition to just about any landscape plan.
The Difference Between Pergolas and Other Structures

Many people confuse pergolas with gazebos or arbors. While they all provide a similar amount of shade, they also have some differences. Gazebos are free standing with a solid roof. They are generally round or octagonal and sometimes are enclosed. Arbors are coverings for walkways and not necessarily over a specific area in the yard. They are generally made from lattice material that allows flowers and vines to grow through them in the spring and summer months.
A pergola can function in the same way as both of these structures. However, pergolas are generally a rectangle or square shape, and they have partial coverings with open walls around them (although sometimes lattice panels can be added for privacy). They can be free standing or attached to the side of the home. Grills, fireplaces and fire pits can also be added underneath them to provide more usage in the fall and winter months.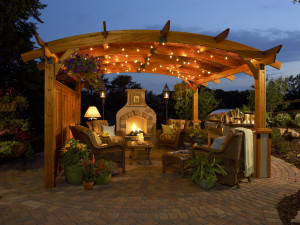 Both wood and fiberglass pergola structures can be custom made or you can order a manufactured model based on the shape, size and location that you'd like it to be in. Here at ALD we've used both options in the landscaping projects we've done.  (The pergola shown in the photo here is from one of our suppliers, The Outdoor GreatRoom Company.  It's one of our favorites.)
Pergolas are available in a variety of designs, and they can be customized to complement your home's design. You choose a style that fits your needs and wants, and then accent it as you'd like.  For example, strings of low-voltage lights were added to the pergola shown here to give it a soft accent at night.
Pergolas are very versatile and can provide lots of entertaining and relaxing options.  Read our earlier post to consider all these other benefits of having a pergola in your yard.
At Architectural Landscape Design, we can design a one-of-a-kind pergola to use in your yard, or we can help you choose from a manufactured model. Speak with us today to learn more about the pergolas that can be set up to provide a specific space for your outdoor gatherings and parties. We are a MN landscaping company you can trust to design, implement and complete your pergola project.