Summer's over, but the outdoor fun here in the Minneapolis area doesn't have to stop. 
Make your autumn exciting this year with a fire pit.
Although we need no excuse for fire pit use, having a party or planned get-together makes it that much better. There are seemingly endless options, some traditional and some more creative.
Fire Pit Party Ideas
Backyard Camping
Set up a tent in your backyard, get camping games ready, and get a cozy fire going in the fire pit.
Give your kids a cooking lesson over the flames.
Head into the tent when it time to sleep. If you have older children, you can always sleep inside if you prefer.
Cooking Contest on Fire Pit
Invite family and friends over for a cooking contest over an open fire.
Assign judges and find out who has a recipe that wins.
Reasonably Priced Romantic Date Night
If if you've got tight budgets to face, it is important to have special time with your significant other. Grab a bottle of wine, a blanket, and enjoy the stars with the fire's glow.
Throw a S'mores Party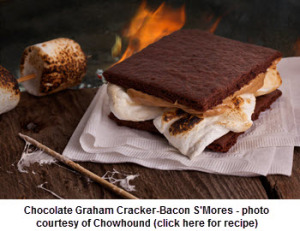 This idea is not just for kids!  Have a creative s'mores party by inviting the gang over and setting up a smores bar. You have the necessities ready (the marshmallows and sticks, the chocolate bars and the graham crackers) and have them bring creative items to add to the s'mores such as white chocolate, colored marshmallows, cookies in place of graham crackers, or anything else they desire. This season's go-to add-on?  Bacon.  Watch others be creative will be fun and you might get a few exciting s'mores recipes also.
Ghost Story Contest
You can have a ghost story contest during the s'mores party or another gathering. Assign judges and have scoring for scariness, enthusiasm, and believe-ability. Have a small prize if desired to make it more fun.
Relaxation
After a lengthy day, with cool weather and it getting dark earlier, cuddling with a blanket in a comfy chair with a novel might seem like a dream come true. (Bring your reading light – it gets dark early these days.) This is a sure way of relaxing your stress away.  Grab a cup of hot chocolate or hot apple cider and prop your feet up near the fire.
At-Home Tailgating
Autumn is football season. Bring a portable fire pit to impress fellow tailgaters this year at games. If you can't go tailgating, bring the game to your yard. Have friends over, turn the radio on the game and relax around the fire pit.  Or bring your big screen TV outdoors and pretend you're at the stadium!
If you don't yet have a fire pit, Architectural Landscape Design can design an outdoor room for you, complete with fire pit. We're offering free initial design consultations now – get the planning process going for springtime installation and be ready to use all these ideas and more next fall.