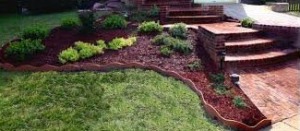 Let's face it, of all the elements that can go into a landscape design, one of the most boring is mulch.
But we'd like you to think about it in a different way, because mulch should play an important part in your yard. 
In this post we will look at what exactly mulching is and how it can be helpful to your landscape.
Mulch has many benefits for your yard's landscape design as well as your garden beds.
It can be both a greener and cheaper alternative to a traditional grass lawn area.
Basically, mulch is any substance layered over soil. Most of the time, it is some type of material that is organic, such as wood chips, compost, or bark, but mulch can also be a material that is non-organic such as plastic or rubber.  For example, often recycled tires are used for the rubber and plastic mulch for use in vegetable growing on a large scale.
There are four benefits you receive by applying mulch to your yard's soil:
Benefits of Mulch
– Conserves water
– Adds beauty
– Keeps the weeds down
– Healthier soil (if using organic materials)

1. Conservation of Water:  There is a tremendous amount of water used on a daily basis with the watering of home  and business lawns and gardens. For us to have a future that is more sustainable, it is important to conserve water. One of the ways people can conserve water is to cut down on the amount of grass and instead lay mulch. Water that is used on a daily basis for watering lawns will be saved due to mulch not needing water, and the garden beds that are mulched will hold water longer – less evaporation means less frequent watering.
2. Brings Beautification:  Mulch is available in a variety of styles and colors to choose from that will enhance your landscape's visual appeal.  Mulches come in colors that are bright and vibrant, or rich and dark, and you can have them customized for the enhancement of any landscape.
3. Reduction in Weeds:  Mulch suppresses plant material growth that is beneath the soil it is laid upon.  When mulch is laid around plants already existing, it helps prevent weeds and plant material that is unwanted from developing around them.  Less weeding!
4. Soil Will have Improved Nutrients:  Over time, mulch that is organic will decay. During the decaying process, nutrients are let go into the soil that is beneath it. The soil will be healthier from this natural fertilizer.
Mulch is just one way to add to the beauty of your yard while cutting down on your outdoor maintenance chores.  If you have any questions or need help with any of your landscaping, contact Architectural Landscape Design in MN.  We offer residential and commercial landscape design and installation.
And yes, we often use mulch.